Among numerous A-list cameos, West momentarily takes a break from trainer-touting and stage-invading to perform a brand new track with Sia and Vic Mensa.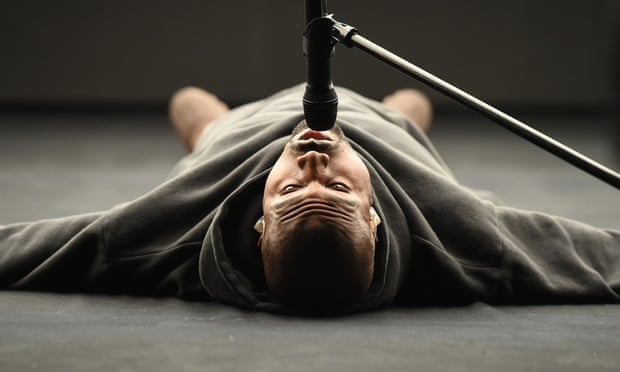 Kanye West's had a busy couple of weeks. He briefly stormed onstage when indie musician and producer Beck picked up album of the year at the Grammys on Sunday 8 February, and then showed his latest fashion collection – featuring what look like a pair of grey Ugg-trainer hybrids for men – at New York fashion week.
Last night, he took to the stage during the 40th anniversary special of American late-night live television sketch comedy show Saturday Night Live, putting in a markedly non-humorous three-song performance of Jesus Walks, Auto-Tune ballad, Only One, and new song, Wolves. He was joined by rapper Vic Mensa and pop singer-songwriter Sia Furler, who donned an exaggerated wig version of her trademark white-haired bob. All three crawled and crouched po-faced on the floor during the stark, bass-heavy number – which doesn't look funny at all, of course.
Other musical guests such as Paul McCartney and Miley Cyrus also left the jokes to the Saturday Night Live alums and cast members. McCartney hammered out a rendition of Maybe I'm Amazed and Cyrus opted for Paul Simon's 50 Ways to Leave Your Lover – perhaps played so straight because he was in attendance on the night. Simon closed the show with a performance of Still Crazy After all These Years.
The musical gags came in plentiful supply elsewhere. Justin Timberlake and comedian and late-night talk show host Jimmy Fallon started off the show with a silly, dick-in-a-box referencing rap tribute, while Martin Short and Maya Rudolph, in character as Beyoncé, introduced a retrospective of musical moments featuring a slew of recurring Saturday Night Live characters. If you ever wanted to see Will Ferrell and Ana Gasteyer's Marty and Bobbi Culp serve up a cover of Mark Ronson's Uptown Funk, then you should probably click here.