As reported by http://www.theguardian.com
David Bowie's body cremated in New York, say reports
Ceremony took place soon after singer's death, avoiding a funeral service in line with wishes of deeply private star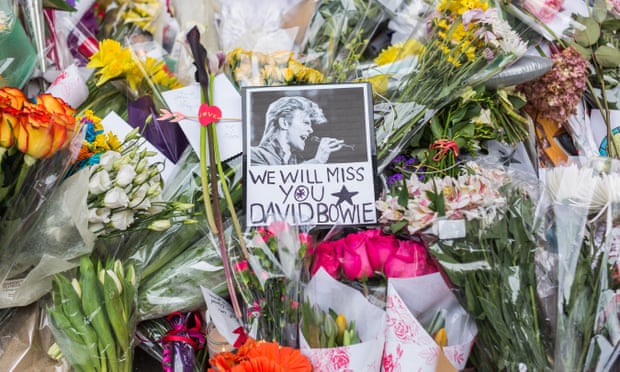 Flowers at a makeshift memorial outside the apartment building where David Bowie lived in New York. Photograph: Li Changxiang/Xinhua Press/Corbis
David Bowie's body has reportedly been privately cremated in New York following his death at the age of 69.
In line with his wishes, no family or friends were present at the ceremony in the city where he had lived for much of his life, the Daily Mirror reported.
The cremation took place soon after his death, avoiding a funeral service for a star who had valued his deeply private lifestyle.
The singer's death was confirmed on Monday in a Facebook post on his official page: "David Bowie died peacefully today surrounded by his family after a courageous 18-month battle with cancer. While many of you will share in this loss, we ask that you respect the family's privacy during their time of grief."
Writing on Twitter, Bowie's son, the film director Duncan Jones, 44, said on Monday: "Very sorry and sad to say it's true."
The news came as a shock to some, who were initially sceptical, but Bowie's publicist, Steve Martin, told the Reuters news agency: "It's not a hoax."
Sales and downloads of his final album, Blackstar, released on the singer's 69th birthday two days before he died, reached 43,000 in the UK in the 24 hours after the news of Bowie's death.
The critically acclaimed album, described by his long-term producer and friend Tony Visconti as Bowie's parting gift, has topped the iTunes charts and more than half of the UK's top 40 chart has been taken up by albums from Bowie's back catalogue.